Throwback Thursday: The Greenbrier Casino Club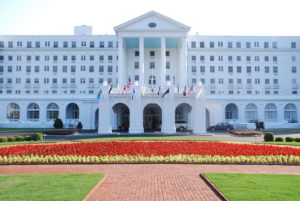 This Throwback Thursday, we are looking back at one of Clancy & Theys Construction Company's most complex and logistically challenging projects: The Greenbrier Casino Club. Located in White Sulphur Spring, West Virginia, The Greenbrier, known as America's Resort, is a National Historic Landmark that also housed a secret underground bunker for Congress from 1962-92.
The overall goal of the Casino Club project was to construct an adjoining, subterranean casino that merged tradition with world-class entertainment. Each element of the design and construction was viewed with an eye toward respecting the existing architecture and the original interior design by Dorothy Draper.
The project began with approximately ten 11"x17" schematic drawings of a 50,000 sq ft casino, to be located directly underneath the front lawn of the main entrance to the resort. The design quickly transformed into a 102,000 sq ft subterranean facility, featuring an elegant Monte Carlo-style casino, as well as high-end retail shops, three dining areas, and a lounge. The complex was discreetly located 30 ft underground, beneath a redesigned front entrance with an expansive garden that features walking paths and rotational flower displays. The project also included a 9,000 sq ft historical renovation of the hotel's adjoining lower lobby and front desk support spaces, as well as a new entry vestibule and Porte-cochère.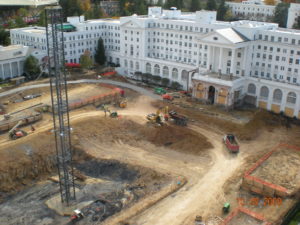 The sheer magnitude of this 10-month project was astounding and included:
130,000 cubic yards of excavation with 18,000 cubic yards of dirt put back on the site
More than 50,000 tons of stone
Six-tenths of a mile of cobblestone curbing
More than 70,000 brick pavers
17,060 cubic yards of concrete
980 tons of reinforcing steel
2,500 tons of structural steel
One mile of cast iron pipe, two miles of domestic water pipe and two miles of mechanical piping
65 miles of new fiber optic and copper data communication cables
92 tons of sheet metal
960 tons of cooling capacity
19 miles of conduit and 100 miles of wire
Five megawatts of power generation capability
Seven miles of crown molding
More than seven miles of audio and video cabling
More than 300 loudspeakers, 20 power amplifiers, and 25 High-Definition LCD displays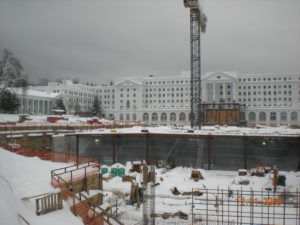 Constructed using the design-build approach, this fast track project was designed and constructed in just 10 months. The weather was extreme during construction and Greenbrier County had more snow that winter than any on record with more than 120". In addition to the weather and overall challenges of constructing a 102,000 sq ft underground facility, the entire project was completed while the hotel remained open to guests.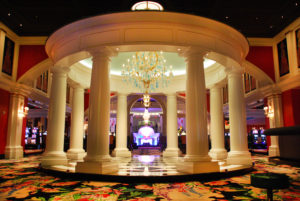 Because of the project's complex nature and schedule requirements, Clancy & Theys worked daily, with the only exception begin Christmas Day. Representatives of the design and engineering teams were also onsite fulltime and shared offices with Clancy & Theys. This allowed our team to make collaborative, informed decisions quickly. From the design team to the trades, each member of the team understood this was an opportunity to be part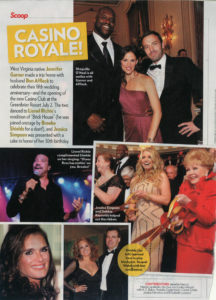 of The Greenbrier's illustrious history, which fueled morale through the project's challenges. Ultimately, the project's success was a testament to the benefit of a collaborative team approach and perseverance.
Without a doubt, The Greenbrier Casino Club is truly a marvel, from construction methods used to systems implemented. Not only was the project completed in record time, but it also represents a level of collaboration, technology, and construction methods that is seldom seen—all the while leaving undisturbed the pageantry and tradition of the property. It was a once-in-a-lifetime opportunity and our team is honored to have been part of it.