Raleigh Union Station wins NAIOP's Project of the Year
Last month, the new Raleigh Union Station, a joint venture of Clancy & Theys and Skanska in association with Holt Brothers Construction, received the Redevelopment/Adaptive Reuse Project of the Year award from NAIOP, the Commercial Real Estate Development Association. Baker Glasgow, vice president of construction for Clancy & Theys, accepted the prestigious award and presented the project alongside Priscilla Williams, construction projects administrator for the City of Raleigh.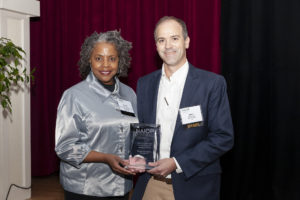 The annual award recognizes exceptional commercial development taking place in North and South Carolina. The project was selected for its valuable contribution to the economic growth of the region, its innovative characteristics, and the team's ability to overcome challenges that arose during the course of the project.
"We're honored to be recognized by NAIOP for our efforts on the Raleigh Union Station project. This award is a testament to the hard work, long hours and dedication of the entire joint venture," said Glasgow. "It's been a privilege to be a part of this transformative project that enhances access to Raleigh's public transportation for both the local community and visitors, and repurposes a neglected property in a prime area into an appealing entry point to the city."
The joint venture completed construction on Raleigh Union Station in July 2018, transforming the abandoned Dillon Supply warehouse into a 26,000 square-foot urban transportation hub. The multi-modal station in the heart of the Warehouse District offers unparalleled views of downtown Raleigh and will accommodate current and future demand for intercity passenger rail, commuter rail, buses, taxis and other forms of transportation.
Union Station features a 920-foot raised platform, a circular drive for dropping off and picking up passengers, and cost-effective parking options. The raised platform is the first of its kind in North Carolina, allowing passengers to easily board trains. The design of the new station mimics the look and feel of the old Dillon Supply warehouse around which it was built.
The station offers 4 round-trip treks between Raleigh Union Station and Charlotte each day, in addition to long-distance service from the Northeast to Florida. Clancy & Theys was honored to accept this award on behalf of the joint venture and thanks the City of Raleigh, the railroad and many other stakeholders who played a part in bringing this project to life.
To learn more about the Raleigh Union Station project, click here.