Clancy & Theys reinforces commitment to safety in recognition of OSHA's 2018 Safe + Sound Week
August 31, 2018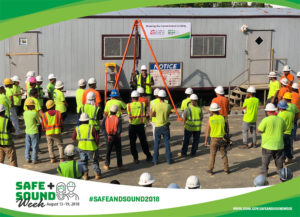 Clancy & Theys recently recognized OSHA's 2018 Safe + Sound Week with a safety demonstration at The Reserve at Williamsburg jobsite. Employees took a break for coffee and doughnuts and gathered to learn more about on-site safety.
Safe + Sound Week is a nationwide event to raise awareness and understanding of the value of safety and health programs. Some effective methods for promoting jobsite safety include management leadership, worker participation and a systematic approach to finding and fixing hazards.
At Clancy & Theys, safety is the highest priority for every project. Our award-winning safety program and integrated Environmental Health & Safety (EH&S) teams help eliminate risk by providing comprehensive safety plans and training. Preventing EH&S accidents requires partnership with all project stakeholders, including OSHA.
At the start of each project, the EH&S team clearly communicates all health and safety instructions, expectations and standards. By addressing this before beginning construction, Clancy & Theys teams are able to recognize, avoid, abate and prevent hazards.
"Our employees are all part of the Clancy & Theys family," said Brian Viau, project manager at Clancy & Theys. "Our goal on every project is for each member of our family to focus on their own safety and the well-being of others. We appreciated the opportunity to participate in OSHA's Safe + Sound Week and look forward to finding innovative ways to increase the safety of our workplaces in the future."
To learn more about Clancy & Theys' commitment to safety, click here.