Clancy & Theys project wins Greater Richmond Medical Project of the Year
Clancy & Theys Construction Company's Virginia Urology project was awarded the Greater Richmond Association for Commercial Real Estate's (GRACRE) Medical Project of the Year award. Clancy & Theys worked alongside Highwoods Properties, property owner and long-time partner of the company, to complete this project. The annual GRACRE awards honor outstanding commercial real estate projects and transactions in the Richmond region.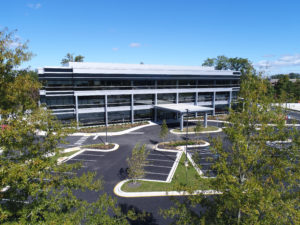 The Virginia Urology headquarters project included complete site development and construction of a three-story medical and surgical building, in addition to a two-tier, 102,000 square-foot parking deck with 325 spaces. The medical and surgical building includes nine operating rooms, pre- and post-op bays, an imaging center, exam rooms, an executive suite and more.  The new 90,054-square-foot building allowed Virginia Urology to consolidate its multiple locations into one office, offering a more convenient location for patients, staff and the community.
Construction of medical office buildings is often complex and requires the careful coordination of a variety of equipment and systems. With the use of Virtual Design + Construction, the team was able to proactively identify potential issues that could have delayed the timeline. Despite an unusually rainy season, two hurricanes and a number of other challenges, the project was completed in only 18 months.
"The team worked tirelessly, overcoming several unforeseen environmental challenges, to complete this project on schedule and with the high level of quality clients expect from us," said Robert Pellerin, project manager at Clancy & Theys. "We are proud to have been recognized with this prestigious award for our work on the new Virginia Urology headquarters."
Clancy & Theys thanks the entire team for a job well done on this project. Congratulations to everyone involved on this big win!
To learn more about the Virginia Urology project, click here.