BIMForum brings emerging industry leaders together to network, collaborate and learn
Harry McKinney, Director of Virtual Design and Construction at Clancy & Theys, moderated a panel of architects, contractors and building owners at this year's BIMForum in Las Vegas, Nevada. This year's conference, which took place September 24-26, had 450 attendees.  BIMForum seeks to explore technological and delivery innovation performance improvement through building information modeling (BIM).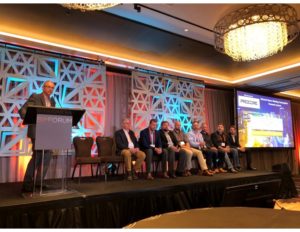 Members of the panel discussed best practices for high performance collaboration on design-assist construction projects and how to increase Safe Productive Quality outcomes (SPQO) utilizing a combination of Lean and Virtual Design & Construction tools.
Conference attendees also explored case studies exhibiting how architects, engineers, builders and owners are improving industry performance through the adoption of standards and best practices, in addition to the integration of technology and process.
Clancy & Theys was an early adopter of 3-D BIM and uses it to first "build" a virtual version of each project, helping to identify and resolve issues before construction begins.  The team also uses BIM technology to optimize communication and collaboration between the design and construction teams. Harry McKinney leads the company's efforts to be an active voice in the national BIM dialogue.
In 2020, Harry will serve as the BIMForum conference chair, overseeing the planning and execution of the event. In this role, he will manage the development of the conference theme and call for proposals, assist in speaker selection and program development, and manage the execution of the event on-site.
"It was an honor to represent Clancy & Theys, a company at the forefront of construction technology, at the BIMForum conference," said Harry McKinney. "I look forward to using the expertise I have gained over the years to lead a successful conference in 2020."
Learn more about Clancy Theys' Virtual Design & Construction services here.