Clancy & Theys Wins Multiple Construction & Development Design Awards
Clancy & Theys Construction Company was recently honored for its work in Virginia by the Associated Builders and Contractors' Virginia Chapter (ABC-VA) and the Hampton Roads Association for Commercial Real Estate (HRACRE) during the organizations' annual award programs. Each year, ABC-VA and HRACRE hold excellence in construction and design awards to recognize exceptional projects in the Hampton Roads region.
"It is a privilege to have been honored by both organizations for our team's outstanding workmanship," said Bill Goggins, Vice President and CEO of Clancy & Theys' Virginia Division. "Our success is the result of a collaborative team approach, which is not possible without the support of our design and construction partners, and of course, our dedicated employees."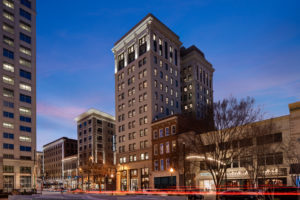 The Glass Light Hotel & Gallery
The Glass Light Hotel & Gallery was awarded ABC-VA's Honor Award of Excellence in the Historic Renovation category and HRACRE's Award of Excellence in the Best Renovated or Historic Rehabilitation category. Additionally, the project received HRACRE's Jurors' Choice award, an honor given to the most notable project overall. The judges commented that as they reviewed all the entries, they were drawn to the Glass Light Hotel & Gallery and were delighted by its design and craftsmanship.
Designed in 1911 and built in 1912, this historic building was originally constructed as the headquarters for the F.S. Royster Fertilizer Company. The 15-story Classical-Revival building was predominantly used as an office building, and most recently served as the headquarters for the Norfolk Redevelopment and Housing Authority until its reimagining as an intellectually curious boutique hotel—the Glass Light Hotel & Gallery.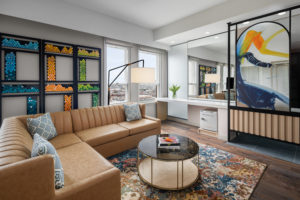 The goal of the project was to transform the building into a modern hotel without losing any of its historic charm. Located in the Downtown Norfolk Historic District, the century-old building now boasts 113 masterfully detailed guest rooms and suites, two meeting rooms, two board rooms, an upscale French restaurant and bar, and a full-service kitchen. The property was envisioned as a home for the owners' ever-expanding collection of unique and exquisite glass art. From the moment guests enter the building until they reach their room, the design creates an activated and highly-experiential journey, connecting them both conceptually and physically to the artwork.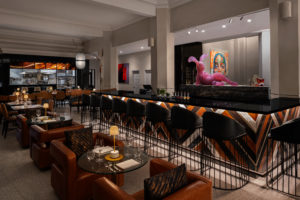 "Restoring and converting a century-old building in a downtown, urban location with other active jobsites and occupied buildings in the near vicinity was certainly a challenge," said Don Sproul, Senior Project Manager. "Ultimately, we were able to overcome them through innovative solutions and constant collaboration between all team members. This was a true team effort."
"Each team member took pride in delivering the highest quality product," added Troy Manlove, Project Manager. "The successful preservation and conversion of this building illustrate that it is possible to embrace a building's character while altering it to meet modern needs."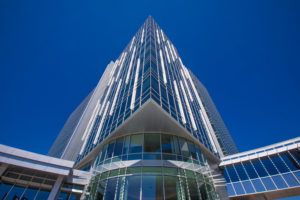 Dollar Tree Store Support Center
The Dollar Tree Store Support Center was awarded HRACRE's Award of Merit in the Best Commercial Office or Retail Building category.
After acquiring Family Dollar in 2015, Dollar Tree needed to expand its corporate Store Support Center. They had outgrown their existing Chesapeake, Virginia location and required a new, state-of-the-art facility to support their growing operations and to attract, retain and engage their employees. Twenty years after breaking ground on the original office building, our team began Phase Four of Dollar Tree's office expansion with a new 13-story 325,000 sq ft glass office tower and adjacent 540,000 sq ft precast parking garage. Throughout the entire project, Dollar Tree's mission-critical operations were uncompromised, employees and visitors remained safe, and their daily activities were unaffected.
"Now the tallest building in the City of Chesapeake, the new Store Support Center was delivered on time and well under budget using a hybrid team-build approach," said Chad Cowger, Senior Project Manager. "We are grateful to all of our team members who helped us achieve the seemingly impossible task of designing and building the office tower in just 28 months."
In 2019, the Dollar Tree Store Support Center was also awarded ABC-VA's Honor Award of Excellence for Commercial projects $20M and over.
Due to the ongoing pandemic, both award ceremonies took place virtually. Recordings of both ABC-VA's Excellence in Construction Awards and HRACRE's Excellence in Development Design Awards are available online.