Women in Construction Week 2022: Surprises About Working in Construction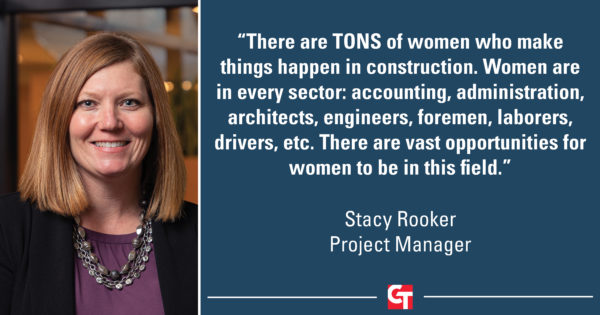 From safety gear to available opportunities, our female colleagues have encountered a variety of surprises throughout their careers. Today we continue our celebration of Women in Construction Week by sharing some of these revelations about being a woman in the construction industry.
WHAT HAS BEEN THE MOST SURPRISING PART OF BEING A WOMAN WORKING IN CONSTRUCTION?
Nicole Anderson, Project Manager: "There are no small safety vests that are easy to purchase! No seriously, the construction industry embraces all types; and I have always been treated fairly based on the value I bring to a project, but I sure wish someone would manufacture size small safety vests. We do not need to be engulfed by our safety gear!"
Felicia Jarvis, Assistant Superintendent: "I thought after finishing my undergraduate degree I would data-dump and ditch the math books forever to trudge around in the dirt onsite. Nope. This job requires a heck of a lot more onsite, on-the-spot engineering and design interpretation than I thought. I did not realize how deep we would dive into drawings to coordinate work or record/interpret as-built conditions. I thought that level of depth was reserved for engineers in an office."
Lisa Snow, Project Engineer: "Construction is a male-dominated industry, but I am surprised and happy about the opportunities available to women and the number of women currently working in the industry."
Cynthia Dumire, Payroll Manager Fraud Control Specialist: "The increase in women working in our industry has been a great surprise."
Laura Hughes, Team Leader – Project Management Administrator: "Seeing the number of women in the construction field, in the office and out in the field working."
Danielle Goodwin, Marketing Manager: "I was surprised by the support we receive from our tradesmen and women. There is nothing more exciting than working with fellow men and women who want to see women in the industry succeed."
Stacy Rooker, Project Manager: "There are TONS of women who make things happen in construction. Women are in every sector: accounting, administration, architects, engineers, foremen, laborers, drivers, etc. There are vast opportunities for women to be in this field."