Women in Construction Week 2022: Our Whys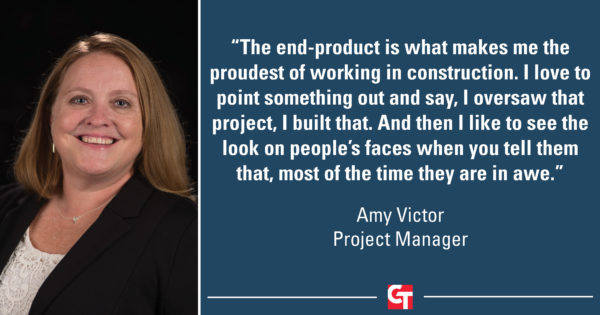 Every day, women in construction push ahead with pride and enthusiasm. During today's Women in Construction week celebration, our team shares their whys– why they remain in the construction industry and why they choose Clancy & Theys.
WHAT MAKES YOU PROUD OF WORKING IN THE CONSTRUCTION INDUSTRY?
Laura Hughes, Team Lead – Project Management Assistant: "Playing a part in building something that will be here long after I am gone."
Janet Martinez, Accounting Associate: "We are a part of something bigger. We get to make an impact on our community and see the progress every day."
Skylar Jones, Marketing Associate: "We aren't just building buildings; we are creating spaces where people will live, grow, and have memorable experiences. We are creating the foundation for an entire community by building residences, gathering spaces, workplaces, and public facilities. It's so much more than just construction—it's the beginning of everything!"
Cynthia Dunmire, Payroll Manager Fraud Control Specialist: "Look at what our people can build! I love to say to people who remark on a building, 'we did that.'"
Mari Cradit, Project Engineer: "The fact that I worked hard to get to where I am, and my daughter is proud of me for the work that I do. I want to be a strong, positive role model for her and other girls."
Felicia Jarvis, Assistant Superintendent: "The projects themselves are something to be proud of. I've had the opportunity to help manage the restoration of the Royster building as well as helping to construct a bar featuring Raleigh's best skyline view. It's 'honest' work. I can go home at the end of the day knowing I'm helping to create something."
Amy Victor, Project Manager: "The end-product is what makes me the proudest of working in construction. I love to point something out and say, I oversaw that project, I built that. And then I like to see the look on people's faces when you tell them that, most of the time they are in awe."
WHAT IS YOUR FAVORITE THING ABOUT WORKING FOR CLANCY & THEYS?
Sara Downing, Business Development Manager: "Clancy & Theys is very supportive of my growth and making me feel appreciated for my accomplishments."
Skylar Jones, Marketing Associate: "This is such a warm, welcoming, diverse company, full of the most amazing people. It really feels like a family. The connection between all of the offices is surprisingly deep considering the size of the company. I love it here!"
Becky Carter, Chief Financial Officer: "I have loved working with the people I have known over the years. We have common goals of good work ethics, helping each other as part of a team, people getting credit for when they do something well (instead of their boss getting credit when not applicable), and the support given for a healthy balance between our work life and our home life.
Amy Victor, Project Manager: "My favorite thing about working for Clancy & Theys is the team and family environment.  The family culture at Clancy & Theys is the best.  It's nice working for a company that doesn't just have that motto, but actually lives it."
Stacy Rooker, Project Manager: "The team atmosphere.  Since day one, everyone has offered or been willing to help.  Ours is an environment where you can ask questions and truly rely on one another."
Amber Cook, Project Engineer: "Clancy & Theys is a huge part of my life. My father has worked for Clancy & Theys for over seven years, and they always treated me and my family like family. Now that I am an employee myself, I couldn't be happier to be a part of the Clancy Team. The people I work with inspire me and they believe in me. I am proud to represent the Clancy & Theys name."
Jill Stauffer, Corporate Fleet Manager: "The life-long friendships I have made during my career.  I have been blessed to work with some truly amazing people."
Katie Huger, Marketing Coordinator: "My favorite thing about working for Clancy & Theys is the people. It truly is a collaborative, team-focused environment. We work hard together, support each other, rely on one another's expertise, and celebrate our success together— as colleagues and as friends."
Felicia Jarvis, Assistant Superintendent: "Even though it's a fairly large company, the way the divisions are set up makes it feel smaller and more personal. Even though I work in the field and hardly ever step foot in the office, I still KNOW who I'm talking to when I'm talking to office staff. Everyone is so kind and welcoming within the Clancy fold. Bill, Dean, Holly, and the other upper echelon still come to our jobsites to check in on us. It feels like management actually cares about our employee experience. I've also had the pleasure of working with many great Superintendents and Project Managers who have always included me as an equal member of the field team. I've been given the same hands-on opportunities and project involvement as any other Assistant Superintendent, and I've never had a Clancy colleague challenge me because of my gender or skin color. I've always felt fully supported in my field position, which is something many women in construction, especially in the field and within the trades, have not experienced."