Women in Construction Week 2022: Careers in Construction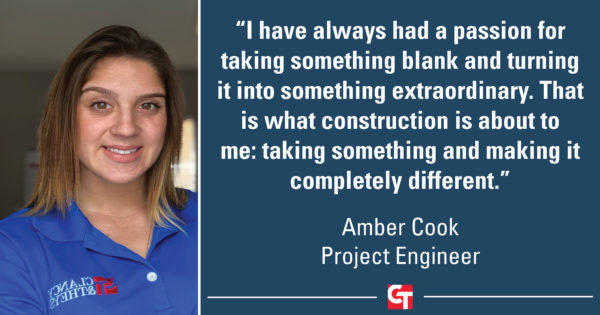 As part of our Women in Construction Week celebration, we are highlighting Clancy & Theys' female employees as they share their own experiences within the industry and our Company. Today, we shine the spotlight on the variety of opportunities available to women, specifically the roles some of our 68 female employees occupy, including what they really do, how they got their start in the industry, and why they stay.
WHAT DO YOU DO FOR CLANCY & THEYS?
Sara Downing: "As Director of Business Development, I do a little bit of everything, including business development, marketing, and office operations. Serving on the leadership team broadens the scope of my role. I am also one of those helpful people, so if I see a need, I help out."
Jill Stauffer: "As Corporate Fleet Manager, I procure and sell company vehicles, manage vehicle registrations, maintenance, taxes, assignments, and rental rates, and enforce company vehicle/safety policies. I also help with various project accounting duties. And, of course, I spread sunshine and humor with my radiant personality!"
Pam Chewning: "I am the Office and Accounting Manager for the Wilmington Office. I ensure the needs of the entire team are met and assist with anything asked of me. I also work closely with the accounting team on project accounting needs."
Laura Hughes: "I am a Project Management Administrator, supporting several Project Managers, and Team Lead for the Project Management Administrators in the Virginia Division."
Moeko Christiansen: "As a Project Manager, my job is to make sure the projects run smoothly by managing project financials and schedule, procuring materials, selecting and managing subcontractors, coordinating with Owners and design teams, etc."
Stacy Rooker: "As a Senior Project Manager, I oversee all aspects of construction projects from contract through completion. This also includes representing the operations side of Clancy & Theys when interviewing for projects and throughout the preconstruction phase. In addition, my role is to buyout the project, create subcontract agreements, and manage all owner and design team correspondence throughout construction. I also oversee all cost and schedule functions to deliver a successful project."
Amber Cook: "I am a Project Engineer. I work mostly within the project management area of construction, but I am also out in the field helping our Superintendents, making sure they have everything they need to do their job smoothly and to ensure the job gets done efficiently."
Felicia Jarvis: "As an Assistant Superintendent, I am responsible for on-site management and coordination of work during all phases of construction."
WHEN DID YOU REALIZE YOU WANTED TO WORK IN CONSTRUCTION OR WHAT LED YOU TO THE CONSTRUCTION INDUSTRY?
Skylar Jones, Marketing Associate: "My dad is an architect, so I grew up visiting job sites and seeing how exciting the creation of a new space can be."
Nicole Anderson, Project Manager: "My father worked in the construction industry, and my mother worked in a supporting role in the construction industry. Seeing and hearing about the projects they were a part of sparked interest at an early age. I enjoyed physical science and math subjects in high school, so it seemed like engineering was the logical career path. In college, I had internships with the Michigan Department of Transportation. Those experiences opened my eyes more fully to the large world of construction and made it clear that was where I wanted to end up."
Amber Cook, Project Engineer: "As a young girl, I enjoyed building things on my own and as I got older, I helped my father out with side jobs. I have always had a passion for taking something blank and turning it into something extraordinary. That is what construction is about to me: taking something and making it completely different."
Felicia Jarvis, Assistant Superintendent: "I originally thought I wanted to pursue a career with a civil engineering firm. I was told that it is best to have some experience working on a project site before working in design to better understand the constructability of a design. I decided to search for an internship in construction and ended up at Clancy & Theys. I stayed in the construction industry because it's a critical (dare I say essential) career with many opportunities for growth. It's a fast-paced career where no two days are alike. I get to be outside as much as I want, and I'm always mentally and physically challenged."
Sara Downing, Business Development Director: "I fell into this industry by way of a landscape architecture and civil engineering firm. I was about seven years into my career before joining a construction company, and I knew then that I had found my passion."
Cameron Winseman, Administrative Assistant: "When I was hired, I had no idea what I wanted to do career-wise. Clancy & Theys took a chance on me and I am forever grateful."
WHAT IS YOUR FAVORITE PART ABOUT YOUR CAREER?
Sara Downing, Business Development Director: "One favorite part? That is so hard. I love everything about the construction process. The partnerships, the pursuits, the problem-solving. Every day I am learning something new. Not to mention that the people in construction are some of the most genuine, down-to-earth people. I think for my role being involved in a project from the very beginning of initial conversations with the client and then finally seeing the completed project. It is fun to discuss people's visions and help them achieve it."
Skylar Jones, Marketing Associate: "In college, I found a passion for developing relationships, working with people, and being involved in a team that makes a difference. Marketing in the construction industry is uniquely human. When I put together a proposal, I'm not selling a new building–I'm selling a team full of people I love with exciting, impressive experience and accomplishments."
Nicole Anderson, Project Manager: "I love the day-to-day variety of project management. If I ever begin to feel stagnant it does not take long for a new challenge, opportunity, or project to appear around the corner. I was hired as an Assistant Project Manager and I knew there was a lot I didn't know about the construction industry, but I quickly realized I would never stop learning in this job. That is what makes it so rewarding and enjoyable every day."
Felicia Jarvis, Assistant Superintendent: "One day you're shoveling mud off of crane anchor bolts or dewatering a trench. The next minute you're in a coordination meeting looking at building models, correcting areas where sprinkler pipe and mechanical duct clash above ceiling. We know what's behind these walls. I'm intimately familiar with every board, every surface of these buildings, including the ground that supports them, in ways that the future occupants won't be."
Amy Victor, Project Manager: "My favorite part about my career, is that you never stop learning. Even after almost 30 years in construction, there are still things to learn, from new products, methods, processes, etc. I enjoy construction because no day is alike. There are always new and challenging issues that arise, and you get to see a tangible product at the end of the project. It's nice to be able to SEE what all of your work produced."