Welcoming Ryan Bisplinghoff, Senior Manager of Business Development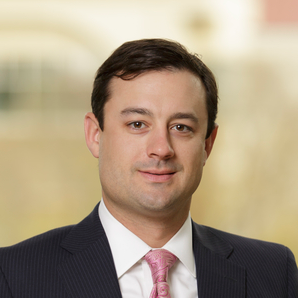 Clancy & Theys is pleased to announce that Ryan Bisplinghoff will be joining our Wilmington team as the new Senior Manager of Business Development.
A lawyer with almost a decade tied to Wilmington's growing business scene, Ryan's meticulous eye for detail and successful track record will be an asset for our office—which continues to pursue innovative projects that benefit a myriad of local communities.
When he's not at work, Ryan is probably chasing his two young daughters around. He also enjoys traveling with family and friends, biking, playing golf, hunting, fishing and following Atlantic Coast Conference sports.
Continuing Clancy & Theys' Great Work in Wilmington
Some of Ryan's biggest strengths lie in his creativity and forward-thinking attitude, which allow him to engage with clients and key stakeholders alike, as well as spot valuable opportunities for greater impact. Working closely with Rob Bridgers, Director of Business Development, he will be instrumental in growing Clancy & Theys' business development efforts in Wilmington by identifying strategic opportunities within the community.
As a part of Wilmington's construction industry, Clancy & Theys is committed to doing our part to help grow the surrounding area sustainably, safely, and in a way that is successful for the people who live there. To aid in this goal, Ryan will be responsible for driving our business team's strategy, and will collaborate with the Wilmington leadership team—David Michael, Michael Goodson and Zach Cromer—to ensure tactical management decisions are properly developed and executed, and are consistent with both Wilmington and Clancy & Theys' growth.
A Background in the Wilmington Business Community
While working as a lawyer for McAngus Goudelock and Courie, PLLC, a Columbia, SC-based law firm, Ryan was asked to open up a Wilmington office in 2014. The following year, he became an equity partner and began a seven-year run as managing partner, where he grew the location ​​to nine attorneys and almost double the support staff.
During this same period, Ryan's team significantly increased their revenue at a steady rate year-over-year. He also grew the firm's business through creative marketing, business development, and client engagement initiatives.
Not only is his experience an asset to Clancy & Theys' business development, his passion for the Wilmington area makes him an ideal partner for ensuring long-term, positive growth that mutually benefits Wilmington and Clancy & Theys.
Growing the Wilmington Team
At Clancy & Theys, each member of the team plays an important role in driving our business forward. We know that Ryan will be an asset to our growth, and an essential part of Clancy & Theys' future in Wilmington.
Interested in learning more about Clancy & Theys' Wilmington office and the work they do? Learn more here.