Throwback Thursday: The North Carolina Governor's Mansion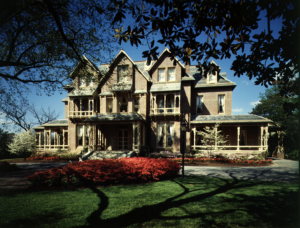 Today's Throwback Thursday takes us back more than four decades to 1976, when Clancy & Theys Construction Company submitted its first-ever proposal to the State of North Carolina for The Governor's Mansion Renovation. The Governor's Mansion Renovation project was right up our alley, as at that time, Clancy & Theys was one of the premier renovation and restoration specialists in North Carolina.

The outstanding work on this project was the result of a true team effort, including the dedicated leadership of E. I. Clancy, Johnny Theys, Tim Clancy, and Jeffrey Theys who helped pull together our first proposal. Our project team included Mike Davis as Project Manager and Paul Childers as Superintendent. The architect was F. Carter Williams, who was best known for their extensive renovation work. Additionally, the restoration was accomplished with the help of dozens of laborers, brick masons, and trim carpenters.
In order to accomplish the complete renovation of the mansion, Governor James Holshouser and his family had to temporarily relocate for the duration of the project. The interior restoration included the kitchen and main ballroom, which was constructed in 1891. As this was the first renovation in over 100 years, the project required exceptional craftsmanship to bring the mansion into the 20th century.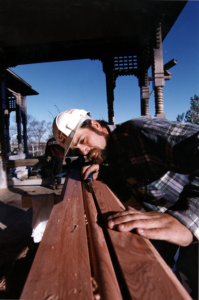 The exterior renovation involved the replacement of rotted timbers and decking on verandas and required a substantial amount of fine carpentry handwork. Clancy & Theys' carpenters hand-tooled 8″ x 8″ columns from reclaimed 100-year-old redwood to match the existing woodwork. At least fifteen coats of paint were stripped to enable wood repair and repainting. The floors were also restored and refinished. Plaster and trim work was completed during this restoration along with the roof repair.
At the time, the Governor's Mansion renovation was one of our signature projects. Even now, it continues to be one of our finest historic renovations. We are thrilled to have been a part of such a prestigious project.