Throwback Thursday: Saint Mary's Catholic Church, Wilmington, NC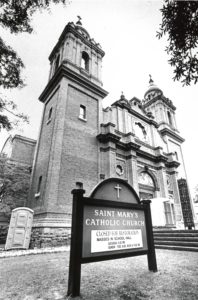 This week's Throwback Thursday takes us back over 30 years ago when Clancy & Theys Construction Company completed a total interior renovation of the historic Saint Mary's Catholic Church cathedral. Originally built in 1912 and designated as a shrine and minor basilica in 2013, the parish is now called the Basilica Shrine of Saint Mary and is listed on the National Register of Historic Places. The facility is noted for its fine tile and masonry work, which required cleaning and restoration.
Clancy & Theys was charged with the delicate process of cleaning and restoring the dome's tiles and the masonry walls. Additional work included replacement of worn marble, roof waterproofing and installation of slate roofing, refinishing of woodwork and pews. A major concern was protecting stained glass windows, the organ, and valuable artifacts during the cleaning. No less critical was constructing a scaffold for work on the 60-foot ceiling.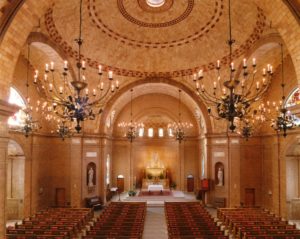 Last year, we returned to the Saint Mary's Tileston building and installed a new roof after being damaged by a hurricane along with renovations to the Lower School which included a new ceiling, light fixtures, paint, and roof repair.