Throwback Thursday: Osceola High School Campus Renovation and Replacement
More than 25 years ago, Clancy & Theys Construction Company partnered together with the School District of Osceola County on their first project. Today, we celebrate the completion of more than 20 major projects on ten unique campuses. In honor of teacher appreciation week, Clancy & Theys is taking us back in time to reflect on one of those successful projects.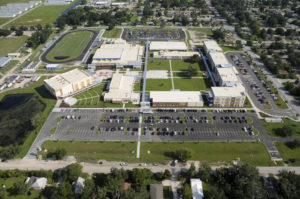 In 2009, Clancy & Theys was selected to provide construction management services for one of the Orlando Division's most iconic educational projects, Osceola High School Campus Renovation, and Replacement Project. This state-of-the-art educational facility transformed 313,000 square feet of existing academic space into a $48 million cutting-edge high school.
Designed by C.T. Hsu + Associates, PA, the beautiful 30-acre campus located in Kissimmee, Florida, provides students, faculty, and staff with an innovative academic environment designed and constructed to cultivate learning and inspire all those who enter.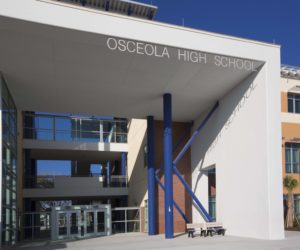 The main entrance features a prominent administration building constructed of a storefront bullet-resistant glass that welcomes visitors into an aesthetically designed secure point of entry. During construction, many of the existing facilities were demolished to improve campus functionality and allow room for the addition of a new centrally located courtyard. The yard provides students, faculty, and staff with expansive views of the campus while easing circulation and enhancing student exchange.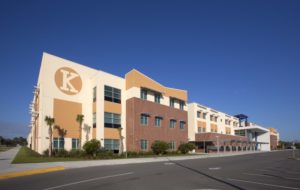 Along the front of the complex, the school features three new classroom buildings, which encloses more than 85 modern classrooms serving 2,800 students in grades nine through twelve. Students can access any of the buildings through spacious hallways or any of the three levels through connected elevated stairways.
With a mission to provide students with access to rigorous courses, the project included the addition of various skills and resource labs that serve students in a variety of workforce training programs. These programs explicitly required the construction of classrooms designed to meet the needs of each course, such as a culinary arts program, adult planning class, ROTC program, automotive class, and a shop and carpentry class. The new classrooms provide access to practical learning environments that inspire development through simulation, interaction, and hands-on experience.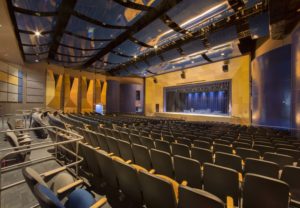 Additionally, the project included the construction of a new state-of-the-art 748 seat auditorium that features a full stage with high-tech lighting and sound systems for the school's performing arts and theater classes and an eloquently designed gymnasium.
The gymnasium, designed to ignite school spirit, features open truss ceilings and movable bleachers for school assemblies, activities, or community events and is easily accessible for indoor physical education or extracurricular sports.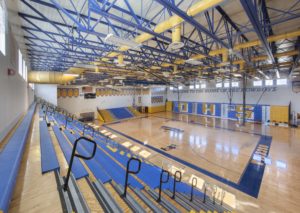 Located directly behind the gym, students can access newly designed tennis courts and athletic fields without having to travel across campus for team meetings or locker room needs.
The cafeteria, a significant component of the replacement project, included the construction of two new concession lines for foodservice and seating for 2,000. Students can enjoy their lunch indoors or at the outdoor, covered dining area that seats more than 432 students.
Sustainability and practicality were established at the project's inception and maintained throughout construction. During the initial construction process, the project team met early to identify energy consumption needs and efficiency goals. Designed to reduce environmental impacts, the school features exterior windows that allow natural light to penetrate deep into the interior space and a new central energy plant that increases cost savings.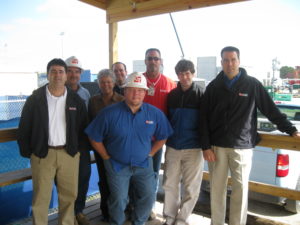 In our experience as education builders, it is our philosophy to serve not only our clients but our students, faculty, and staff. Throughout the three-year, multi-phased construction of the Osceola High School Campus-wide Renovation and Replacement Project, the team kept collaboration, stewardship, and safety at the forefront. This success has and will continue to serve as a symbol of Clancy & Theys's commitment to building educational facilities for the communities in which we are fortunate to serve.