Throwback Thursday: North Carolina Museum of Art Amphitheater
Today's Throwback Thursday takes us back 25 years to the largest work of art that the North Carolina Museum of Art and Clancy & Theys Construction ever collaborated on.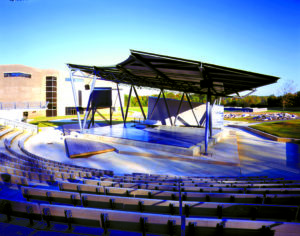 In 1989, the North Carolina Museum of Art invited Barbara Kruger to collaborate with architect Henry Smith-Miller and Laurie Hawkinson and landscape architect Nicholas Quennell to help create an installation for the museum's grounds that till this day remains a focal point of the museum's sculpture park. These textual artists designed the "Picture This" art piece that has become a must-see when visiting North Carolina.
In the summer of 1995, Clancy & Theys began to build the outdoor performing arts center and landscape sculpture. The project involved fixed concrete seating, a stage and a stage roof, projection booth, and a unique 180′ long sculpture using a variety of materials to spell the words "Picture This."
The "Picture This" artwork has giant letters that stretch across the amphitheater and outdoor stage. The 80-foot-long letters are sculpted into the landscape from a variety of materials and sprawl over more than two acres.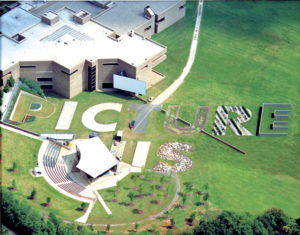 Today, the "Picture This" art piece is visited by thousands of people each year. Ranking the Museum of Art at 9th Place with more than half a million visitors each year. Clancy & Theys is delighted to have been a part of such a staple piece of art in North Carolina.