Building a Better Workflow with Kyle Snyder
Workflows are what drive the lifecycle of a building project from ideation to completion. They allow us to deliver projects on time, on budget, and built to last. That's why we're enormously proud of Virtual Design & Construction (VDC) Coordinator Kyle Snyder, the deserving winner of Revizto's Most Innovative Workflow Award for 2020 for his work on Raleigh's transformative new Smoky Hollow development.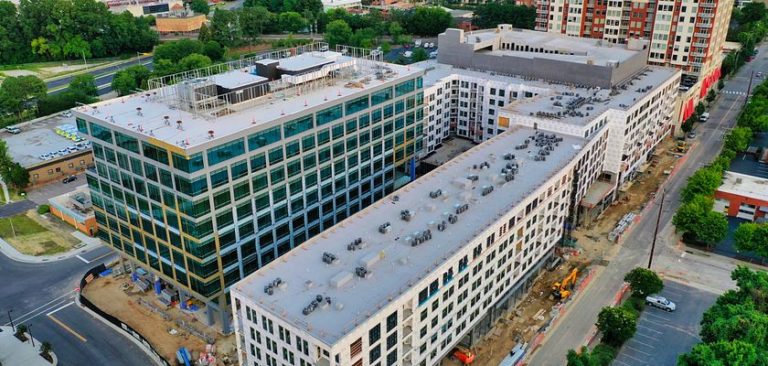 Smoky Hollow Development in Raleigh, NC
Kyle arrived at Clancy & Theys in 2016 with extensive experience in architectural design and construction workflows. A licensed drone pilot and an enthusiastic adopter of cutting-edge architecture, engineering and construction software for over a decade, Kyle has helped C&T take advantage of new technologies and put them to use for our clients.
When it came time to help Kane Realty and Williams Realty completely reimagine the northern gateway to Downtown Raleigh, we needed to take advantage of all of his talent, skill and ingenuity to succeed.
The Challenge
Kyle's work means more data needs to flow between different teams than ever before, especially on huge mixed-use projects like Smoky Hollow. In that information exchange, he noticed three areas where we could enhance our process:
Integrating drone scan data into coordination
Tracking and organization of BIM (Building Information Modeling) coordination issues
Distribution of models with field and project management teams
In summary, there is an enormous variety in the types of data that get added to the comprehensive model during the build. Many types of workflows aren't designed to shift on the fly between 2D and 3D data. This meant that context was often lost as meetings and reviews required constant shifting between software and data bottlenecks interfered with understanding the whole project picture.
The Solution
Kyle needed to view all that information in one easy-to-share and easy-to-use model. For that, he uses Revizto, an integrated collaboration platform that lets him take all kinds of data, including sleeve drawings, point clouds, and 3D models, and combine it with maps of the area created from his own drone photogrammetry to build a uniquely comprehensive picture of the complete project site and surroundings.
This is especially crucial in tight urban sites like Smoky Hollow, slotted in between a major thoroughfare and Raleigh's busiest nightlife district. He leveraged three phases of visualization on the project (drawings, models and reality capture), and analyzed them all together in a single space. This helped improve communication of the trade coordination with the post-tension concrete slabs, analysis of the underground rock vs. the foundation design, and the ability to track these items through the coordination process.
If you'd like to see more, Kyle walked through the entire process in one of Revizto's RevUP Digital Sessions (his segment begins at 3:30): RevUP: Reality Capture and Remote Workflows.
What it Means for the Future
Clancy & Theys has prioritized improving on-site collaboration and empowering field team members as driving factors in accelerating the work we do for our clients. Kyle is a key part of that, integrating everything with a focus on bringing together field workflows with BIM and drone technology.
Working with Revizto, Clancy & Theys benefits from:
More connected departments
Improved field access
Broader engagement
Better understanding of design models
It all adds up to more data, better applied, which means our clients get projects that run smoother, and get done better.
"I am really excited to expand upon this integrated approach and continue pushing innovative solutions that help our teams and clients deliver high-quality results." Kyle Snyder
To learn more about how Clancy & Theys is building the future of construction across the Southeast, or to start a conversation about your next project, email us at: mattchambers@clancytheys.com