Harry McKinney Promoted to VP of Technology & Innovation
Clancy & Theys has always been at the forefront of using technology to foster a proactive and engaging experience for their clients. They were the first construction company based in the region to implement building information modeling (BIM), a way to visualize and coordinate complex building systems using computer models.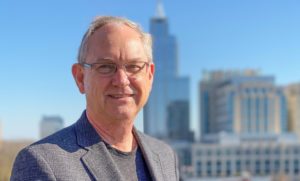 Harry McKinney is a proponent of a collaborative approach to design and construction and has found that technology can be a great enabler.  As an architect, he was one of the early adopters to embrace three-dimensional design software as a collaborative tool, later using it in construction to build projects such as the North Carolina Nature Research Center, the Holy Name of Jesus Cathedral and the Peace and West Project.  His innovation and leadership are why Harry has been promoted to VP of Technology & Innovation. In this position, he will lead both the Virtual Design and Construction department and the Information Technology department while continuing to implement new products and processes that help drive the company's efficiency, safety, and quality of work.
"Technology is not just something we showcase during marketing presentations, but real tools that we use every day in order to deliver high-quality projects for our clients," said Harry.
"We feel passionately that this move will continue our technology initiatives across the company," said Baker Glasgow, Vice President of Construction, who has worked with Harry on many projects. "We are past the days where technology is a necessary evil and our personnel in the tech department are just responsible for keeping everything working. Instead, we have moved toward a mindset that technology is a driver and helps to advance best practices for Clancy & Theys as a whole."
Harry was hired at Clancy & Theys 12 years ago to pioneer the BIM department. He has since seen technology become a much more integrated part of the construction process through the use of cloud-based technologies and hand-held computers. As VP of Technology and Innovation, Harry will help Clancy & Theys integrate emerging technologies with our current tools, to save time and money in the construction process.
"From drawings and models to schedules and cost data, up-to-date project information is always accessible to every project member. This has made us more efficient and helps prevent costly mistakes that could occur from using outdated information," said Harry. "One of the greatest benefits of our technology is that it improves communication among the whole project team – owner, architect, engineers, trade contractors, Clancy & Theys – and it enables high-functioning collaboration. In the end, Owners today want a high-quality product at a good value, delivered on or ahead of schedule, with a proactive and engaging experience. Our technology supports and helps us deliver on those expectations."
Congratulations, Harry!