Clancy & Theys wraps up companywide food drive ahead of Thanksgiving
Clancy & Theys wraps up companywide food drive ahead of Thanksgiving
November 21, 2018
In the spirit of Thanksgiving, Clancy & Theys employees at all five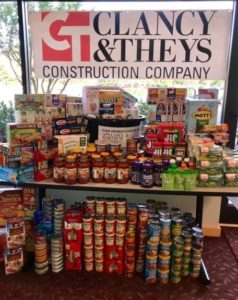 in a companywide food drive. Each office partnered with a local organization to donate food to needy families in the community for Thanksgiving, and the event was a huge success for all offices.
Clancy & Theys' Raleigh office partnered with the Food Bank of Central and Eastern North Carolina, a non-profit providing food to people at risk of hunger across 34 counties. The team collected over 800 items totaling 857 pounds, in addition to a monetary donation of $600. The combined food and monetary donations equate to 6,715 meals for hungry families in North Carolina.
Clancy & Theys' Charlotte team collected 190 pounds of food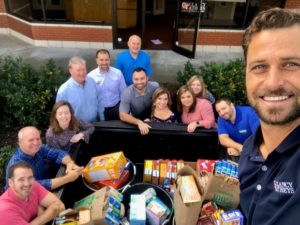 and $625 for the Second Harvest Food Bank of the Metrolinas, a non-profit serving 19 North and South Carolina counties. Donations will be used to stock the shelves of the emergency food pantries, soup kitchens, homeless shelters and low-income daycares the food bank serves.
The Wilmington office teamed up with Nourish NC, a local non-profit working to enhance children's health and well-being by preventing the devastating consequences of child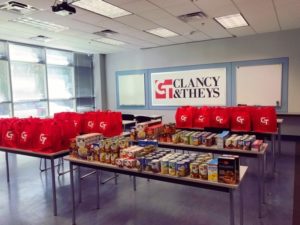 hunger. The team collected 580 items totaling 625 pounds, in addition to a monetary donation of $260. All donations will go directly to feed hungry children in New Hanover County.
The Newport News team donated 40 full Thanksgiving food baskets totaling 880 pounds, in addition to $505 in monetary donations, to the local food pantry at Chestnut Memorial United Methodist Church. Each basket is stocked with a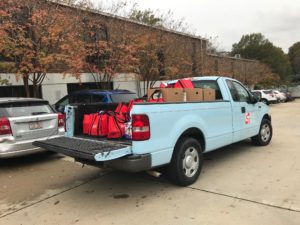 Thanksgiving turkey and all the necessary side items; the baskets will be given out for local families to enjoy on Thanksgiving.
The Clancy & Theys Orlando office worked together to pack 45 Thanksgiving dinner bags and collected $500 in monetary donations to feed families and students at Pine Crest Elementary School in Seminole County, Florida. The Thanksgiving bags, which were packed with essentials for a full Thanksgiving meal, were delivered to students and their families by the Clancy & Theys team.
"As part of these five outstanding communities, it is our responsibility to help our neighbors who may be less fortunate than us," said Tim Clancy, President at Clancy & Theys. "We are so proud of our teams that have worked hard this Thanksgiving season to help provide meals for local families in need, and we look forward to continuing this tradition for years to come."
Overall, Clancy & Theys donated more than 2,600 pounds of food and $2,490 to help feed hungry families this Thanksgiving. Thank you to everyone who participated in the food drive – it truly was a team effort. We hope everyone has a safe and happy Thanksgiving!