Clancy & Theys teams prepare jobsites for impending Hurricane Florence
September 13, 2018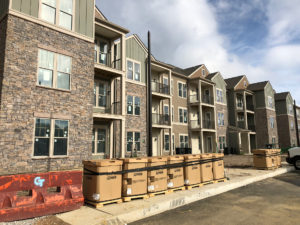 With Hurricane Florence approaching the east coast and threatening damaging winds and flooding, Clancy & Theys teams have been hard at work this week securing jobsites across North Carolina and Virginia.
Safety is the utmost concern on all Clancy & Theys projects, and we recognize the importance of taking necessary precautions to prevent risks for both employees and neighbors, while also minimizing damage to the construction during the storm.
North Carolina and Virginia project teams worked to secure loose building materials, protect glass and cover exposed construction to prevent damage. They also dug diversion ditches to reroute water to desired locations and prevent flooding, in addition to taking down or securing any cranes. Emergency contact information for subcontractors and others has been updated at all jobsites ahead of the storm, and employees fueled all vehicles and procured adequate drinking water in preparation.
Once the storm passes, Clancy & Theys will be deploying team members out into our communities to help neighbors recover from the hurricane. Teams will be available to assist any of our current or past clients and will be helping with relief efforts throughout our communities.
"We've done everything possible to prepare our employees and jobsites for the storm headed our way, and we'll be ready to help our neighbors and clients clean up any damage once it's over," said Shawn Ray, EHS Officer at Clancy & Theys. "Our thoughts are with everyone in the path of Hurricane Florence, and we urge you to heed all safety warnings and stay inside."
Click here for more information from the Department of Homeland Security on how best to prepare for Hurricane Florence's arrival.