Clancy & Theys Receives Two Associated Builders and Contractors – Virginia Chapter Excellence in Construction Awards
Clancy & Theys Construction Company has been recognized for the excellence of two of its projects in Virginia by the Associated Builders and Contractors Virginia Chapter (ABC-VA) during the organization's annual award programs.
The Central Virginia and Hampton Roads Excellence in Construction Awards celebrates outstanding projects and individuals from ABC-VA members in the region. The goal of the competition is to raise industry standards by recognizing the workmanship of those who contribute and showcasing the results of their dedication.
"We are beyond proud to be recognized with these awards for our work at Summit Pointe and share this honor with all of our employees and design and construction partners," said Chad Cowger, Senior Project Manager. "Despite the impact of the pandemic, the team finished strong. Without their commitment and hard work, our success would not be possible."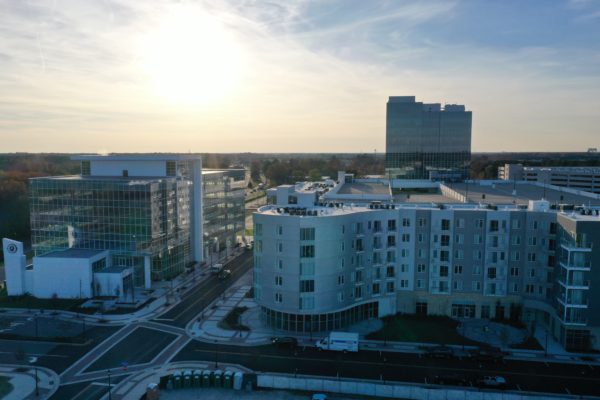 Summit Pointe: Helix Apartments
The Helix Apartments received the 2021 Merit Award of Excellence in the Residential Multi-Family category.
After nearly a decade of planning, Clancy & Theys helped make the vision for coastal Virginia's newest metropolitan center a reality with the completion of the first phase of the project, the Helix Apartments. This 168,353 sq ft apartment complex wraps a parking garage and boasts 133-units, complete with high-end finishes, including stainless steel kitchen appliances, full-size washers and dryers, warm or cool design themes, and back-lit vanity mirrors. Each of the modern units features views of Belaire Avenue and thoughtfully designed, open floor plans with studio, one-, and two-bedroom options.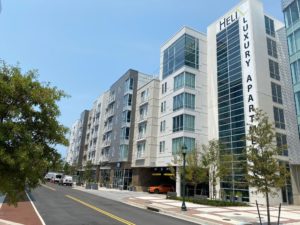 The pet-friendly apartment community also includes a rooftop sky lounge with outdoor fireplaces and natural gas grills, a fitness center with state-of-the-art equipment, and 25,000 sq ft of ground-floor retail with outside dining.
To help transform the location into an urban lifestyle community, the Helix Apartment project also includes high-end streetscapes featuring stunning landscaping and art features.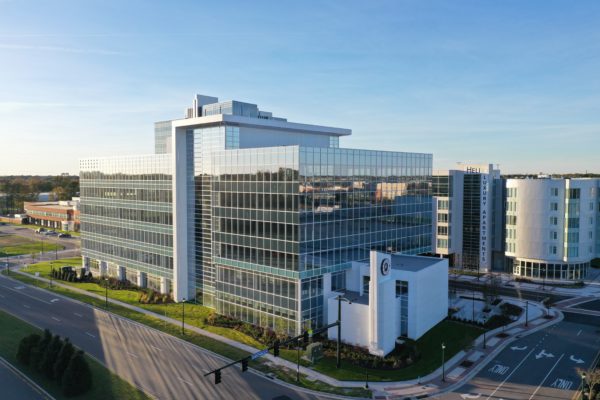 Summit Pointe: 555 Belaire
555 Belaire was awarded the 2021 Merit Award of Excellence in the Commercial ($20 Million & over) category.
Just two weeks after construction began on the first phase of Summit Pointe, our team simultaneously began construction of the second phase: 555 Belaire.
The scope of work for this 167,228 sq ft six-story office tower includes the core and shell of levels two through six, as well as the lobby, a monumental staircase, and a conference room on the second floor.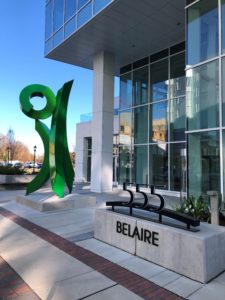 To enhance the modern design of the office building, the exterior is a unitized curtain wall. The building includes Class A office space on floors two through six, with a distinctive multi-story lobby that features a monumental staircase. The second floor offers panoramic views of the lobby. All areas offer full-height windows overlooking the high-end streetscapes.
"Clancy & Theys' work at Summit Pointe does not end with these awards," added Cowger. "Phase three of the Summit Pointe development is well underway and includes 270 apartments, with first-floor retail and a 500-space precast parking garage. We are excited to watch this project continue to grow and transform the Greenbrier business community."