Clancy & Theys' Raleigh team volunteers with Urban Ministries of Wake County
Clancy & Theys' Raleigh team volunteers with Urban Ministries of Wake County
November 21, 2018
This month, the Clancy & Theys Raleigh team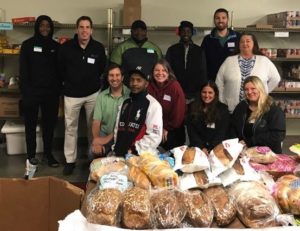 volunteered at the Urban Ministries of Wake County (UMWC) food pantry. The team stocked shelves, helped shoppers fill their carts, cleaned up around the food pantry and helped out with other tasks.
UMWC is a local community support organization that provides access to necessities such as food, nutrition, healthcare and medicine for those affected by poverty in Wake County. The organization also offers a safe shelter for homeless, single women within the community.
UMWC's food pantry alone provides a week's groceries to as many as 50 families each weekday. Last year, 270 tons of food were distributed from the pantry, serving more than 20,000 adults and 10,000 hungry children. The self-service pantry model reduces food waste and affords greater dignity to those served.
"Clancy & Theys is proud to be a business sponsor of Urban Ministries of Wake County," said Bobby Anweiler, Project Manager at Clancy & Theys. "Giving back to the communities in which we work is an important part of our company culture, and we're happy to support UMWC as they continue doing important work to help many of our neighbors in Wake County."
Learn more about Urban Ministries of Wake County here.