Clancy & Theys invests in the future of architecture, construction and engineering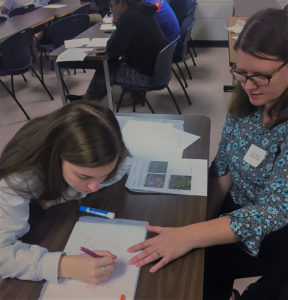 Laura Keyser, Virtual Design and Construction Coordinator at Clancy & Theys, spends her spare time mentoring the next generation of architecture, construction and engineering professionals by volunteering with the ACE Mentor Program's Raleigh/Durham affiliate.
The program introduces area high school students to technical fields, helping build the industry's workforce of the future. Students work directly with local professionals, designing hypothetical projects, touring local construction sites and networking in area offices.
The mentorship program strives to attract students from a variety of backgrounds, including low-income, minority and female students, to explore careers in these competitive industries. ACE RDU emphasizes the industry's demand for young, talented workers skilled in math, physics, economics, art and other disciplines.
Laura Keyser sits on the program's Associate Board, where she coordinates outreach programs and experiences for program participants. Laura is also a Lead Mentor for the program, guiding a group of students through their design project over the course of fifteen after-school sessions.
"ACE gives students the unique opportunity to learn about careers in design and construction while gaining hands-on experience with tools and processes used in our industry," said Keyser. "Mentors gain valuable insight into the future workforce and have the opportunity to develop connections with these talented students."
Thanks to the guidance of industry professionals like Laura, the program has mentored over 500 students and awarded more than 60 scholarships over the past 10 years. Clancy & Theys looks forward to Laura's continued success as a part of the ACE RDU Mentor Program.
Learn more about the ACE RDU Mentor Program here.