Clancy & Theys Construction Company Opens New Upstate, SC Office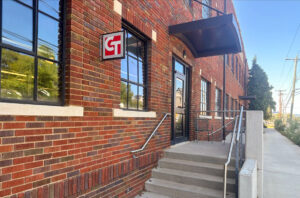 Clancy & Theys Construction Company has hired Brandon Scott as the Vice President, Upstate Division Manager and Matthew Praytor as the Vice President, Project Development and Operations, providing a natural expansion of the company's footprint to Upstate South Carolina with a new Greenville office.
"With the population growth in the Southeast, we knew it was time to expand our office locations and the Upstate was the natural progression", notes Baker Glasgow, President of Clancy & Theys. "The markets that are seeing the most growth are markets where we offer a depth of experience and knowledge. We are excited about this new opportunity and have added two great members to our team."
The Upstate Division Manager, Brandon, brings 26 years of national construction management experience, most recently focusing on higher education, healthcare, commercial, and advanced manufacturing in Greenville.
Before starting his career, Brandon earned a Bachelor of Science in Civil Engineering from Clemson University. He and his family have called the Upstate home for ten years, and his energy and expertise is vital to the growth of Clancy & Theys in South Carolina.
Matthew Praytor will head up Project Development and Operations at the Upstate office, bringing 25 years of experience building in the local Greenville and Spartanburg markets. His focus has been in K-12, higher education, healthcare, commercial/mixed use, aquatics and cultural projects that have connected and shaped his community.
Matthew earned a Bachelor of Arts in Managerial Economics from – Hampden-Sydney College prior to starting his career. His deep roots, relationships, and understanding of the Upstate market is key to making Clancy & Theys successful in South Carolina.
About Clancy & Theys Construction Company
Clancy & Theys Construction Company is a leader in providing construction management, design-build and general construction services for commercial, industrial, and institutional projects, including new construction and renovation. Headquartered in Raleigh, NC, the company also has offices in Wilmington and Charlotte, NC, as well as Newport News, VA and Orlando, FL. The company boasts a wide-ranging portfolio of building projects, including mixed-use facilities, hotels, health & life sciences facilities, multi-unit residential projects, cultural buildings, sports facilities, office buildings and much more. For more information, visit www.clancytheys.com.