Clancy & Theys breaks ground on new Randolph Community College Allied Health Center
August 30, 2018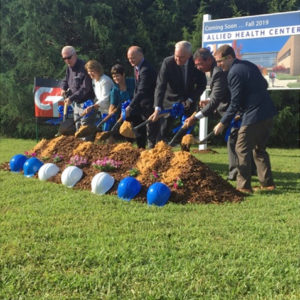 Last week, Clancy & Theys broke ground on Randolph Community College's new Allied Health Center, a state-of-the-art healthcare education facility in Asheboro, North Carolina. The two-story, 44,198-square-foot building will house the community college's Radiography, Medical Assisting, Emergency Medical Services and Associate Degree in Nursing programs.
The L-shaped Allied Health Center will be situated on a 2.5-acre site of RCC facing Industrial Park Avenue. Clancy & Theys is working alongside Little Diversified Architectural Consulting on the steel-framed building, which will feature metal paneling and a garden roof.
A number of special guests and speakers attended the groundbreaking ceremony, including Robert Hall, VP at Clancy & Theys, Suzanne Rohrbaugh, VP for Instructional Services at RCC and Daffie Garris, VP for Administrative Services at RCC. The groundbreaking ceremony was led by RCC President Dr. Robert Shackleford, who has advocated for the addition of the Allied Health Center since 2014.
The facility, expected to open in time for spring 2020 classes, will be equipped with a simulated healthcare community. The simulated hospital will include an ICU room, maternity room, nursing stations, radiography labs and more. The building will also include an apartment to simulate home health care and emergency services training.
"This new building will truly enhance the teaching and learning for our health science students. It will allow our students to experience learning in a very state-of-the-art, student-centered and simulated healthcare community," Rohrbaugh said. "It's truly going to be a life-changing experience, not only for our students, but for our faculty and staff, and our healthcare community."
Clancy & Theys is honored to be a part of this economic and workforce development investment in Randolph County and looks forward to working with the RCC team to get the Allied Health Center ready for students in 2020.
Read more about the groundbreaking ceremony from the Asheboro Courier Tribune here.