Clancy & Theys Break Ground on New Raleigh Headquarters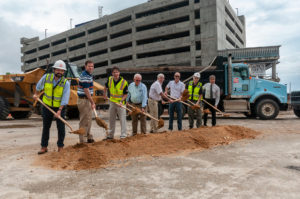 A downpour of rain didn't deter Clancy & Theys Construction Company's Raleigh office staff from breaking ground on their new headquarters at The Harrington, the second phase of the Smokey Hollow development at Peace and West Streets. Despite the downpour, employees gathered for some North Carolina Barbeque prepared by several of our enterprising interns under a large tent to celebrate the momentous occasion. The new Clancy & Theys office space will occupy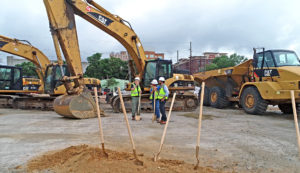 approximately 15,000 sq. ft. of the 252,000 sq. ft., 9-story building. The project is expected to be finished in early 2021.
"We are proud to continue our strong partnership with Kane Realty as builders of the Smokey Hollow development," said Clancy & Theys president Tim Clancy. "While we always take pride in delivering a quality project, this one is personal, since it will house our new headquarters." Clancy & Theys leads the construction management for the second phase of the Smokey Hollow development. In addition to the office building, phase 2 also includes additional residential apartments, a 10-story parking deck, ground floor retail in both the residential and office buildings, and a pedestrianized courtyard between the two buildings.
The development is part of a greater revitalization of the northern entrance to downtown, an area formerly called Smokey Hollow, along the fast-changing Peace Street and Capital Boulevard corridor. The first phase of the residential, mixed-use complex addressed the need for a downtown grocer in Publix. The area is also getting a new 16-acre city park and greenway project, Devereux Meadows, named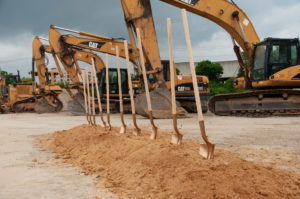 after the former baseball club previously located on the site.
"We've been in our current location for nearly 50 years," added Clancy. "While we're excited about the future and our move to The Harrington, we will be leaving a lot of memories behind." Clancy & Theys first opened their doors in Raleigh 70 years ago.