Celebrating Women in Construction Week: Interview with Natalia Cichocka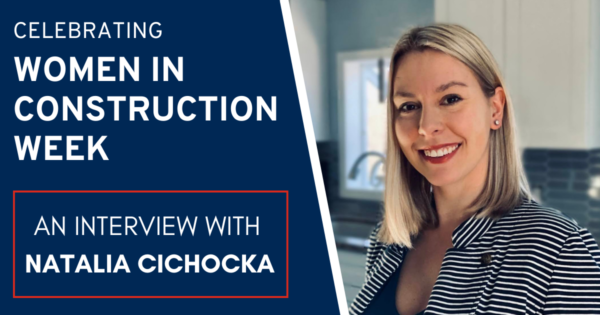 Each year, the construction industry, guided by the National Association of Women in Construction (NAWIC), dedicates the first week of March to honoring and promoting the role of women in the construction industry. This year's Women in Construction Week theme, 'Many Paths, One Mission,' celebrates the different journeys of women in construction and how we can work together to strengthen and amplify the success of women in the industry.
This week, Clancy & Theys joins the celebration by sitting down with five of our very own women in construction. Join us for this five-part series as we dive into their construction journeys, their roles at Clancy & Theys, and their insights about being a woman in this industry.
Meet Natalia Cichocka, an Assistant Project Manager with Clancy & Theys' Charlotte Division. Natalia has almost eight years of experience in the industry and has been with Clancy & Theys for over a year.
Growing up, did you think you would have a career in the construction industry? 
Having a career in the construction industry wasn't something I thought about until I was in college. I knew about the industry, but it wasn't a career I considered when I was younger. When I went to college, I realized how much I enjoyed putting stuff together and started to rethink my career options. It wasn't until after my first internship that I truly realized a career in construction was right for me.
How did your journey in the construction industry begin?
While pursuing my education at the New Jersey Institute of Technology, I was trying to figure out what I wanted to do. I even changed my major multiple times. I decided I should pursue a mechanical engineering technology degree, but it was not until meeting with a company doing construction at a campus job fair that I realized a career in construction might be the right move.
It seemed like a good match for me because I enjoyed doing light electrical work and other construction-related home projects, and I enjoyed my CAD (Computer-Aided Design) classes. At first, I thought I would be working in CAD, building engines, working in a machine shop operating heavy machinery, or even doing design work. I started as an intern in that first construction company because they were close to my house, and I enjoyed talking to the people I met at the career fair. They hired me to help the estimating department with subcontractor outreach. It wasn't until a little later that I realized a lot of individuals with my major pursue this path, and I eventually transitioned into project management. Nearly eight years later, I still love it.
What is your current role, and what does it entail?
Simply put, it is my job to get into the nitty-gritty of the project. I assist the project manager and project team in any way possible. I spend a lot of time collaborating with the subcontractors and trades. On my current project, I review submittals that come through for the trade contractors and change orders. I also work with the team to review the project's drawings to check for errors, which helps us to discover issues and produce solutions before they impact our project.
What do you like best about the construction industry? What has made you stay in this career?
Honestly, I like the challenge of working in a male-dominated industry. I like challenging the way things have always been done and bringing a new perspective and approach to project management. My passion for construction continues to grow with every problem I help solve. I love digging into a project, collaborating with the team, and problem-solving.
What is the best advice you've received during your career?
It's not necessarily advice, but a lesson I have learned along the way: don't take what people tell you to heart. This industry can be tough. Sometimes emotions are high, and people can let frustration get the best of them. But don't take it to heart because it's not directed toward you. Know your worth, stay calm, and keep pushing forward.
What advice would you give to a female, or anyone, considering a career in construction?
Because construction is male-dominated, it can be intimidating for a woman to consider a career in the industry. My advice is that the industry is not what it seems, so don't let stereotypes deter you. There are far more women in construction than most think. For example, I work on a project team with a female assistant project manager (myself), a female project manager, and a female project executive. The industry is growing and changing, so don't be shy about pursuing a career. There are plenty of people who will have your back and look out for you.
Are you involved with any industry-related organizations?
Yes! I am involved with the National Association of Women in Construction's (NAWIC) Charlotte chapter. I am currently the chapter's membership committee co-chair.
When I moved to Charlotte, I wanted to pursue personal and professional growth opportunities, so I signed up for an industry event and started making connections. Eventually, I found my way to NAWIC. When I started at Clancy & Theys, I was thrilled that they not only supported but encouraged me to be involved as much as I wanted.
I have enjoyed meeting other women in the industry and making connections that can benefit me personally and professionally.
Would you encourage other women in construction to get involved with NAWIC or other industry-related organizations?
Absolutely, yes! The wonderful thing about NAWIC is that you have a supportive group of people that you can relate to on so many levels. They, too, are in the industry, so they know what you are going through and can provide sound advice.
NAWIC and other industry-related organizations provide wonderful opportunities for networking, mentoring, and even expanding your skills.