Celebrating Women in Construction Week: Interview with Felicia Jarvis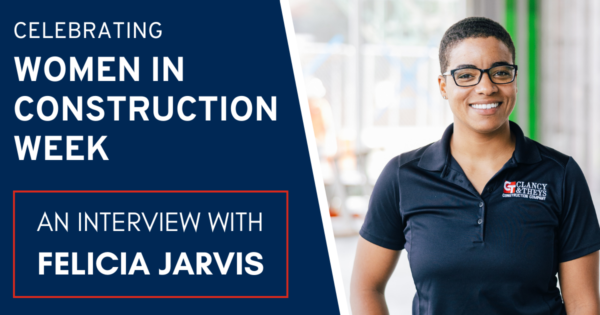 Each year, the construction industry, guided by the National Association of Women in Construction (NAWIC), dedicates the first week of March to honoring and promoting the role of women in the construction industry. This year's Women in Construction Week theme, 'Many Paths, One Mission,' celebrates the different journeys of women in construction and how we can work together to strengthen and amplify the success of women in the industry.
This week, Clancy & Theys joins the celebration by sitting down with five of our very own women in construction. Join us for this five-part series as we dive into their construction journeys, their roles at Clancy & Theys, and their insights about being a woman in this industry.
Meet Felicia Jarvis, an Assistant Superintendent with Clancy & Theys' Virginia Division. Felicia has eight years of experience in the industry and has been with Clancy & Theys for almost six years.
Growing up, did you know about the different opportunities available in the construction industry, and did you think you would have a career in construction?
No, I did not. As a kid, I watched a lot of HGTV, but at that time, women were represented as interior designers, never contractors. It never occurred to me that I could have a career in construction because I didn't see other women doing it. Out of sight, out of mind, if you will. When I first went to college, I thought I wanted to become a writer or something similar. That didn't work out for me, but I am so glad it didn't.
Since you weren't looking for this career, how did you end up in construction and at Clancy & Theys?
I began college thinking I would pursue a degree in English, but it ended up not being the right fit for me at the time. I decided to pivot and joined the Navy. After serving as an electronics technician for six years, I decided it was time to enter the civilian world again and knew I needed to pursue a degree that would lead to a stable career. This time around, I decided to pursue engineering. When I was younger, I never thought I could make it through an engineering program; however, after serving in the Navy in a technical field, I realized that I was capable of more and enrolled in Old Dominion University's engineering program.
I initially wanted to do civil design work for an engineering firm. As I pursued internships, the engineering firms I met with told me it was best to have some construction experience before working in design. So, I began searching for construction company internships. Clancy & Theys had a table at the ODU career fair, and I went up to find out more, and the rest is history! I secured an internship with Clancy & Theys that summer and continued to intern with them as I finished my degree. After graduating with my bachelor's in Civil Engineering, I started at the company full-time as a project engineer.
What is your current role, and what does it entail?
I am an assistant superintendent, which means I am responsible for the onsite management and coordination of work during all phases of construction. I work with the superintendent and other field team members to coordinate with the subcontractors to maintain the project's schedule. I also help interpret drawings and scopes to ensure everyone understands their responsibilities, confirm constructability, and limit issues that could impact the job. A lot of communication, coordination, and problem-solving are involved in this role.
What made you choose a career in the field versus the office?
During my internship, I was able to experience many facets of construction management and worked in both the office and the field. This experience confirmed that I was better suited for a role in the field. I enjoy it because I am heavily involved in the day-to-day activities on site, which means I am able to witness firsthand the project being built. The field environment is also different. While still professional, it's less formal than an office environment. I honestly love wearing my cargo pants and steel-toe boots and enjoy working outside and with my hands every day. It can be mentally and physically challenging, but I get to be onsite and am physically a part of the project coming together.
What do you like best about the construction industry? What has made you stay in this career?
You're never bored, that's for sure. The industry is fast-paced and keeps you busy. One day you're shoveling mud off crane anchor bolts or driving a forklift (my personal favorite). The next minute you're in a coordination meeting looking at building models, correcting areas where sprinkler pipe and mechanical duct clash above ceiling.
I also like playing an integral part in building something from the ground up. It's cool to know the ins and outs of a building and that I've made decisions that have impacted the project. I know what's behind these walls. I'm familiar with every board and surface of these buildings, including the ground that supports them, in ways the future occupants won't be.
As I drive to our project site every day, I've seen the skyline change, and I am proud to know that our company and my team have had a hand in it. It's honest work, and I can go home at the end of the day knowing I'm helping to create something.
What is the best advice you've received during your career?
Someone once told me that bad news doesn't get better with age. That has stuck with me and stands true, especially when you're in the thick of a project. Sometimes it may seem like it's best to wait until things further unfold, or maybe you know it will be an uncomfortable conversation. No matter what, it's best to communicate with people right away. It can be hard to deliver bad news, but by doing so, you open an opportunity to collaborate and find solutions.
What advice would you give to a female, or anyone, considering a career in construction?
It's very easy to succumb to imposter syndrome, where you feel as if everyone is smarter, better, etc., and you feel pressured to prove yourself and your worth. Remember that you have nothing to prove and are there for a reason. Keep doing your job and doing your best—that's all anyone out here is doing!
Also, remember that being a female in a male-dominated job and industry isn't a disadvantage. It's like that phrase, "run like a girl." Running "like a girl" isn't a bad thing. Running a job "like a girl" isn't a bad thing, either. Doing anything "like a girl" isn't a bad thing! It's a misconception that you must embrace a stereotype to succeed as a woman in the field or this industry. Be true to who you are, and be confident. You can be calm without being a pushover. You can be assertive without being aggressive. No matter your personality, you just need to be confident.
Are you involved with any industry-related organizations?
Over the years, I have been involved with the Richmond chapter of NAWIC. While my schedule often limits my level of involvement, I attend meetings and events when possible. I think NAWIC and other industry-related organizations are excellent resources for women, and anyone, in our industry.