Celebrating a Legacy of Success at Clancy & Theys Wilmington
New changes are coming to Clancy & Theys Wilmington. Two longtime leaders in the construction industry, David Michael and Rob Bridgers, are retiring soon. Their experience, expertise, and leadership have been invaluable to growing the Wilmington office and we couldn't be more proud of the ways they've shaped Clancy & Theys.
Over the past 38 years, we've been honored to work within this unique community. Every one of our team members is committed to helping Clancy & Theys grow alongside Wilmington and continuing to execute worthwhile projects that build toward the future of this wonderful city. 
"We're fortunate for the long-time leadership of David and Rob in the Wilmington market, which has helped Clancy & Theys build a strong reputation and a great team for almost 40 years. We will look to our new young leaders to help guide the company towards becoming an even more impactful business, a philanthropic force within the community, and a resource to all of our partners," said Baker Glasgow, President of Clancy & Theys. "They have big shoes to fill, but we know they are up to the challenge."
We want to take a moment to highlight David and Rob's unique achievements, and the ways they've helped grow the company as a whole. With their retirement on the horizon, we also want to confirm that we have a transition plan in place that we'll be announcing more formally in the coming months.
David Michael: Vice President & Wilmington Division Manager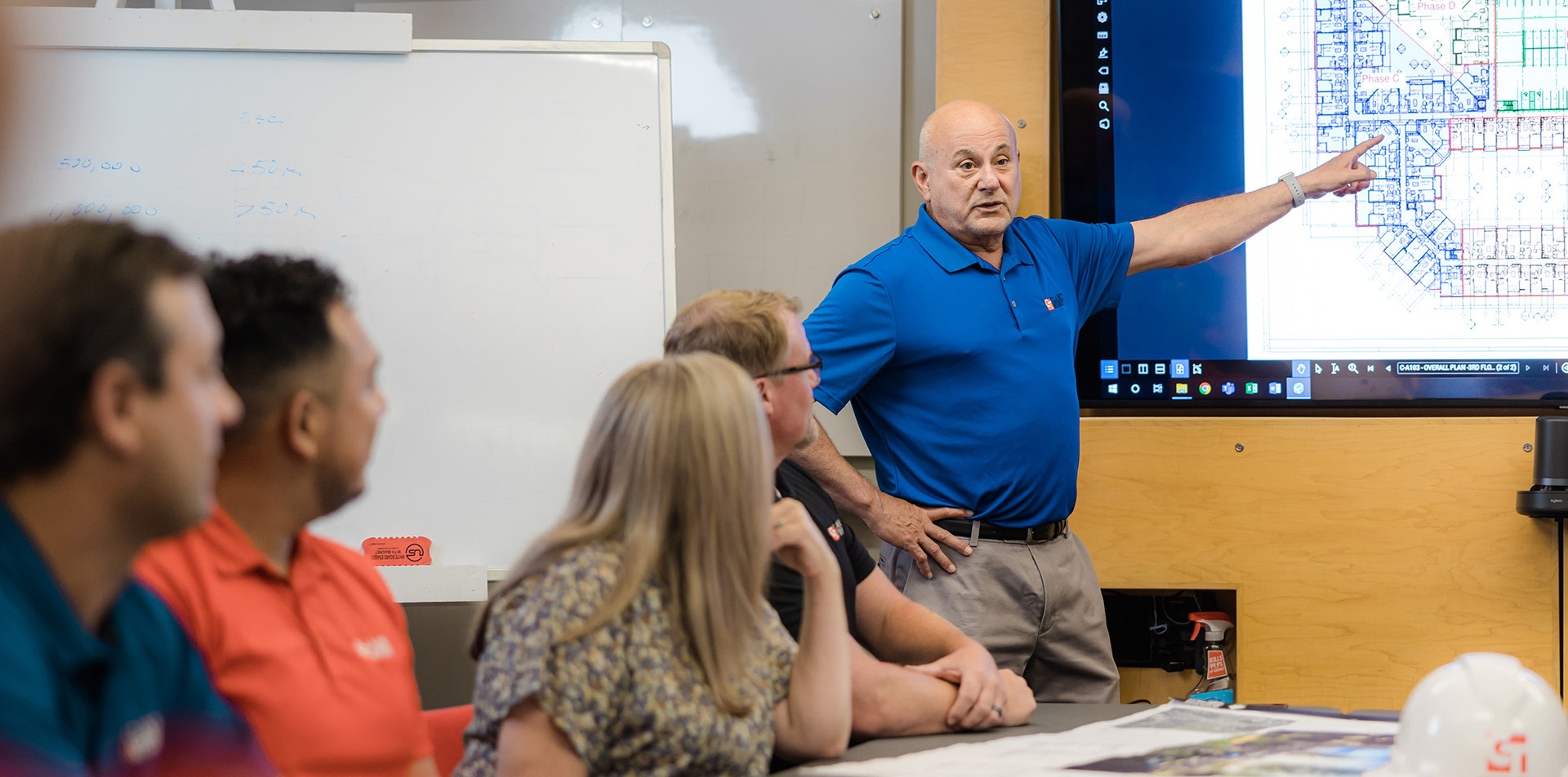 David Michael has proven an essential part of the Clancy & Theys Wilmington office. His contributions have helped to establish Clancy & Theys as a trusted construction provider in the greater Wilmington area.
David first began his career at Clancy & Theys right out of high school, where he briefly worked as a carpenter. Then, in 1985, when Clancy & Theys opened up their Wilmington office, David was hired to be their first project manager. Over the years, he grew alongside Clancy & Theys — being promoted to senior project manager, then VP, Director of Operations, and finally to the Vice President of Clancy & Theys Wilmington Division.
His contributions to the company are difficult to measure, but they can be felt in some of our most notable projects: the Battleship North Carolina Visitor Center, Cameron Art Museum, Fort Fisher Aquarium, Riverfront Park (formerly North Waterfront Park), Jeannette's Pier at Nags Head, and more.
David is set to retire at the beginning of 2023, and is working closely with his successor, Michael Goodson, to ensure a smooth transition and successful path forward for Clancy & Theys.
Rob Bridgers: Director of Business Development

As the Director of Business Development, Rob Bridgers has been an essential force in growing Clancy & Theys' footprint in the greater Wilmington market. 
He first began his career with Clancy & Theys in 1989 in business development, and  has since become a fixture in the Wilmington construction industry. His contributions cannot be overstated: without his influence and dedication, Clancy & Theys Wilmington would not be the company that it is today.
Similarly, Rob's impact can be felt and seen in practically all of our Wilmington office's biggest projects. For the 33 years he's been a part of the Clancy & Theys team, he has been committed to upholding our company values in everything he does: safety, stewardship, passion, and collaboration.
At present, he is working closely with his successor, Ryan Bisplinghoff, to ensure that the transition of leadership at the Wilmington office goes off without a hitch. He is set to retire sometime at the end of Q4, 2022.
The Future of Clancy & Theys Wilmington
We're grateful to have had so many passionate leaders at the helm of our company. As we move forward in 2022, we will begin highlighting our forthcoming leadership team and announcing our transition plan more formally. Michael Goodson, Ryan Bisplinghoff and Zach Cromer, all current employees in the Clancy & Theys Wilmington office, are slated to fill the upcoming openings. 
We cannot wait to introduce you to our team of leaders: we have full confidence they will embrace our past and our culture, while challenging some of the ways we've always done business to help drive Clancy & Theys forward. 
We have our plan and we are excited for what our young leaders bring to the table: more potential for the future. At the same time, we want to celebrate David Michael and Rob Bridgers, who have undoubtedly helped shape Clancy & Theys into the company it is today.