2020 Milestone Anniversaries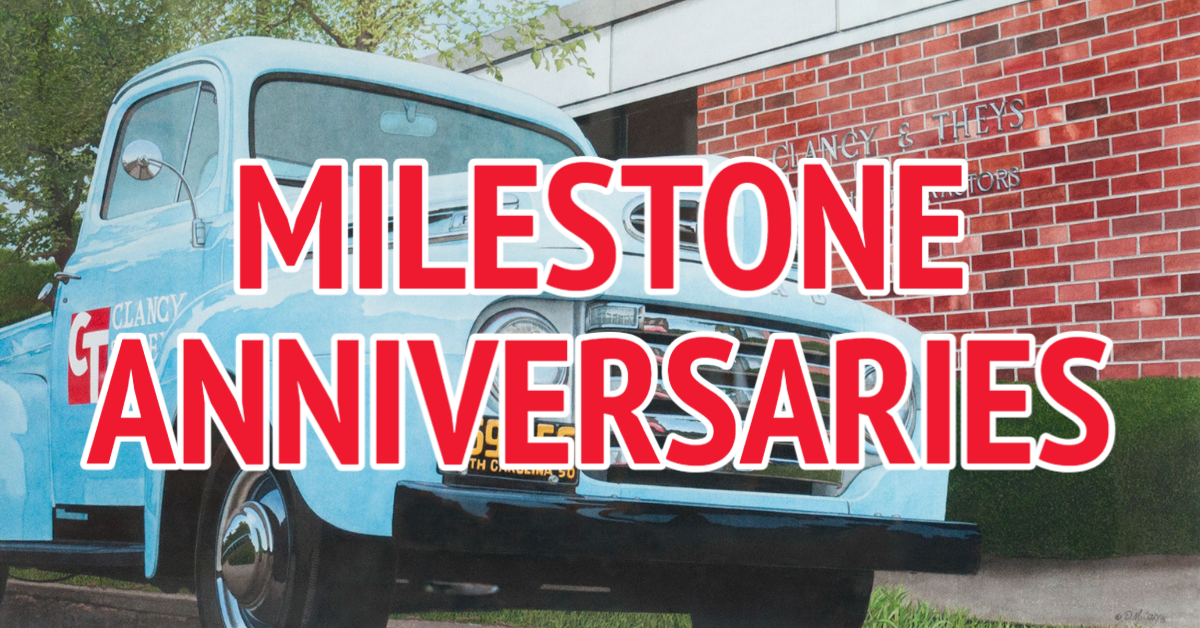 Clancy & Theys Construction Company is honored to recognize 59 employees who have celebrated milestone anniversaries this year. These employees have collectively dedicated 985 years of service to Clancy & Theys, ranging individually from five to 50 years of service.
Please join us in congratulating these individuals on their milestone anniversaries and thanking them for the commitment to Clancy & Theys.
Five Years
Archie Burruss (Charlotte)
Tatiana Chichugova (Orlando)
David Gadalla (Wilmington)
Patty Gavitt (Raleigh)
Jose Gonzalez (Orlando)
Michael Goodson (Wilmington)
Joseph Graham (Orlando)
Tyler Hadcock (Orlando)
Tom Haggard (Charlotte)
Andrew Holland (Raleigh)
Eugene Johnson Jr. (Raleigh)
Alex Kahl (Newport News)
Garrett Lewis (Charlotte)
Josh Logan (Raleigh)
Luis Lopez (Orlando)
Geoffrey Mendoza (Orlando)
Hunter Morris (Raleigh)
Rita Papadopoulos (Orlando)
Daniel Patterson (Charlotte)
Pat Rogers (Newport News)
Lisa Snow (Orlando)
Brett Street (Raleigh)
Leslie Woodson (Newport News)
15 Years
Robert Borrie (Orlando)
Mary Edwards (Newport News)
Scott Frase (Newport News)      
Baker Glasgow (Raleigh)
Jim Griffin (Newport News)
Kathleen Nicolai (Newport News)
Phil Renfroe (Raleigh)
Don Sproul (Newport News)
Robert Stone (Orlando)
Todd Verge (Raleigh)
20 Years
Elio Aguilar Dominguez (Raleigh)
Lisa Castater (Raleigh)
Pete Edwards (Newport News)
Mike Jolley (Newport News)
Leonel Lopez Valdez (Raleigh)
25 Years
John Andras (Raleigh)
Nina Bernard (Raleigh)
Kenneth Byrd (Wilmington)
Vanessa Guess-Demery (Raleigh)
Philip May (Wilmington)
Scott McGloin (Raleigh)
Ronnie Patrick (Wilmington)
Shawn Ray (Raleigh)
Barry Riley (Raleigh)
Troy Roberson (Raleigh)
Gustavo Tomas Sosa (Raleigh)
30 Years
Greg Keeler (Raleigh)
Cornell Lynch (Raleigh)
Chip Overman (Wilmington)
Antonio Rodriguez (Raleigh)
Arturo Tomas (Raleigh)
35 Years
Kevin Johnson (Raleigh)
David Michael (Wilmington)
Dennis Strickland (Raleigh)
40 Years
David Bennett (Raleigh)
50 Years
President of Clancy & Theys, Tim Clancy, is celebrating 50 years with the Company this year. Tim started with the Company in 1970 and has served in his current leadership role since 1986.